The SAIGA RIFLE - An Introduction & Retrospective
The Russian Saiga Rifle is an AK platform self-loading long gun manufactured for the civilian market in
the Izhamash Factory
, in the Udmart Republic, the very same factory that make military AK-74s. The late Kalashnikov himself held a title at the factory.
The Saiga (pronounced Sigh-guh) -- Canta in Russian --is named after a hardy Russian antelope.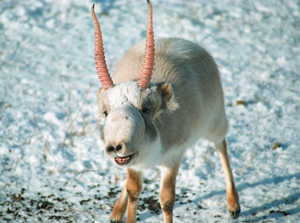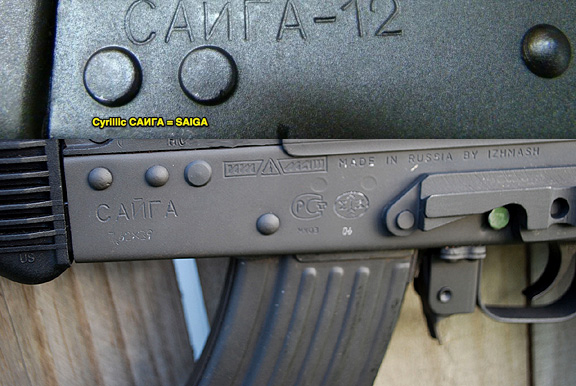 It is offered in the following calibers; 7.62 x 39 mm, .223, 5.45x39 mm, .308
Several factory variations and barrel lengths are offered (see Izhmash link below).
http://www.izhmash.r...uct/saiga.shtml
NY Times Business Article about the Izhmash Factory importing Saigas to America
http://www.nytimes.c...wners.html?_r=0
The receiver is a quality AK style receiver with sought after "dimples" on the mag well.
The barrel is a mil spec AK barrel. The Russian authenticity and quality makes it one of the best makes to convert into an AK-47/74 build stateside.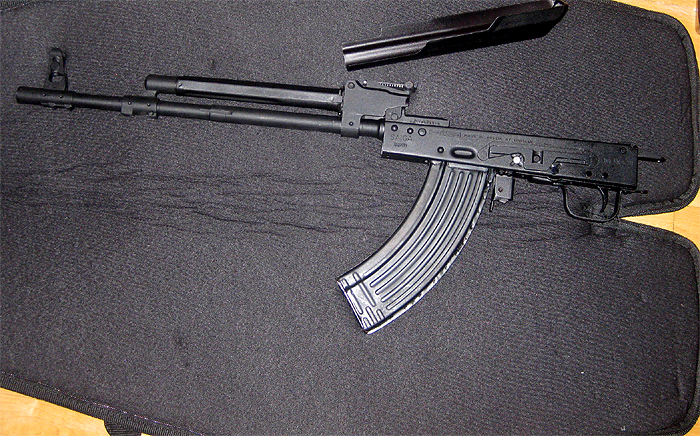 Stock imported "sporter" version Saiga rifle (bottom) and "converted" rifle (top).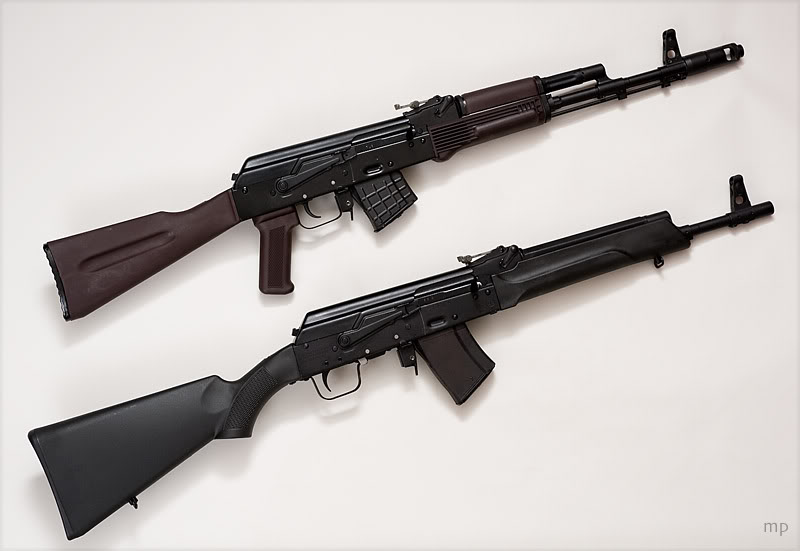 --Saiga Rifle Schematic--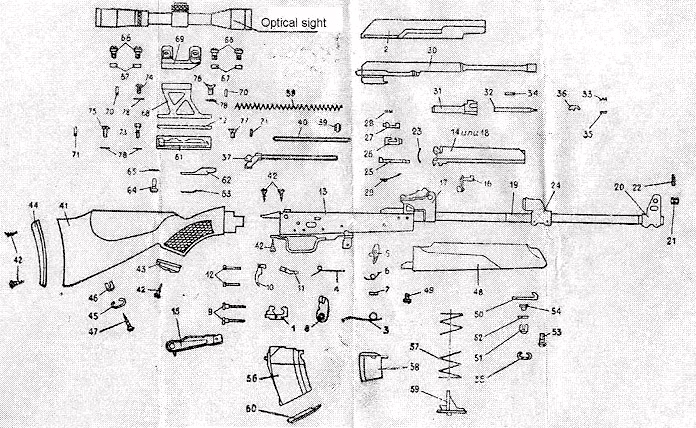 -------------------------------------------------------------------------------------------------
US SALES & IMPORTERS
As with any foreign made product, it must be imported into the US. Business deals are struck with importers stateside, and they get contracts to be dealers. These contracts expire and change over time.
Years ago Russian American Armory (RAA) started out as an exclusive importer of Saiga rifles. Only a few big stores like Centerfire Systems sold them. Now many other importers sell them and some even immediately convert them into Pistol Gripped AK-47 types stateside, and sell them that way (Century Arms).
The reason you see that fuzzy "Velcro" looking patch on many Saiga receivers is that the new importers will laser etch out the name of the old ones. This is very common. Basically the factory pumped out so many and this "Velcro mark" is an old importers name that has been scribbled out.
Currently Russian Weapon Company (RCW) in PA is the exclusive importer for Saigas. Izhmash announced this contract in 2012.
russianweaponcompany.com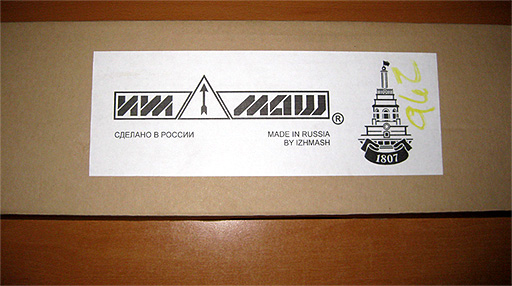 ------------------------------------------------------------------------------------------------------------------
SPORTERIZED IMPORT VERSION
So why does this AK format rifle not look like an "AK"?
Due to US import law, the Russian Saiga must be shipped into the United States devoid of any "military style" features. So Izhmash marketed it as a "sporter rifle" removed the pistol grip and added a sporter stock, removed or put a permanent integrated shroud over the threaded barrel, (and also the trigger group is now moved back to where the PG would be on most AKM rifles). Because this neutered version contains no military features it is a great option for ban states, such as NY, where the SAFE act would deem any semi auto rifle that accepts detachable magazines, with one feature such as pistol grip (PG) an Assault Weapon (AW) that must be registered. The sporterized Saiga rifles contain no such features and it would stand to reason that they are thus not defined as AW under the SAFE act.
The import version is devoid of mil features, making it ideal for "ban" states.
A non threaded barrel with an integrated permanent muzzle shroud: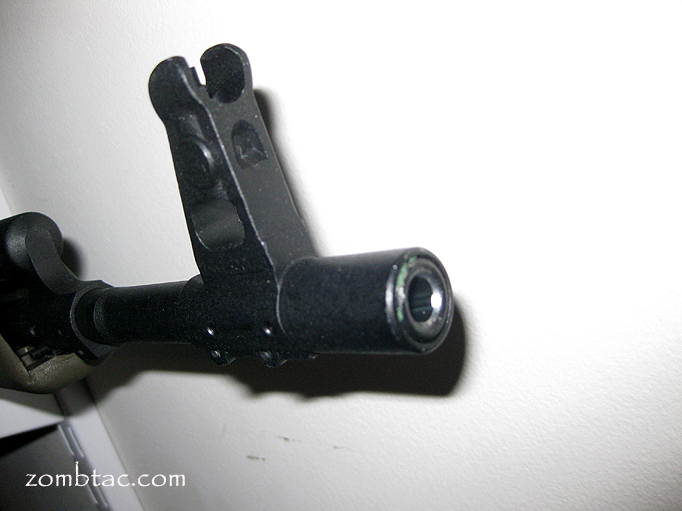 The superior 10 round double stack Izhmash factory magazine.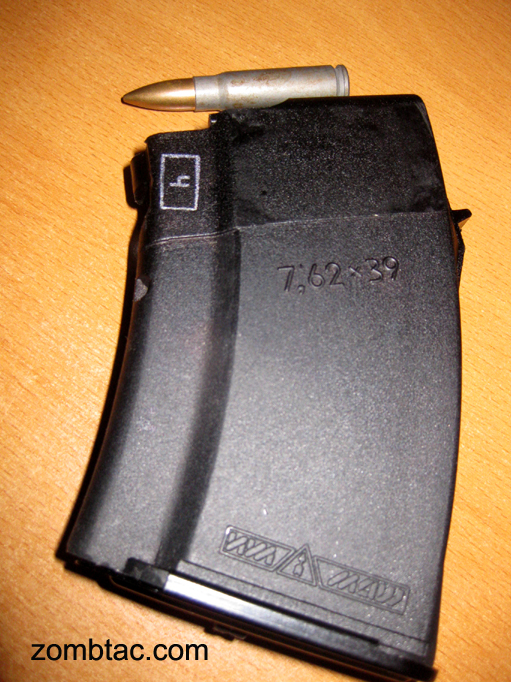 There are "bolt on" aftermarket stocks that allow for a PG without moving the FCG forward.